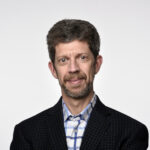 Not all journalists get to live their beat, but I do. My personal finance column in The Globe and Mail is one regular guy's attempt to make sense of the world of money. I'm married with kids and constantly figuring out ways to spend and invest intelligently. I ask the same questions you would and apply my experience and contacts to get answers. My columns simplify – they never complicate.
I got my start in financial writing back in the early 1990s when I covered the Bay Street business scene for The Canadian Press, the country's national news service. A few years later, I was transferred to CP's parliamentary bureau in Ottawa to cover consumer affairs and, later, the federal Department of Finance. I left CP and joined The Globe and Mail as investment reporter in 1996. A few years after that, I was talking to my boss at the time about how we didn't do much personal finance coverage at The Globe. The paper's Personal Finance column was launched shortly afterwards, with me at the wheel.
What a trip it's been covering personal finance over the years. I've seen three bull markets for stocks, a couple of recessions and stock market crashes, one global financial crisis, the incredible rise of the housing market, soaring personal debt loads and an ever-present worry that Canadians aren't saving enough for retirement. Along with this experience, I bring a fresh analytical take to my columns that applies economics, demographics and social trends. Along with basic topics like banking, mortgages, investing, retirement and insurance, I have written about the crazy cost of weddings these days, the case for renting a home instead of buying, the ways joint bank accounts strengthen marriages and how much money we waste by owning cars. Three areas of particular interest for me are the housing market, the financial challenges faced by the young adults of Generation Y and the impact of longer lifespans on our finances.
I know there's infinite personal finance content available these days online, in print and on TV and radio. Come to me for my experience, my willingness to challenge stale consensus thinking and, most of all, my ability to make you say after finishing one of my columns: "Now I understand."